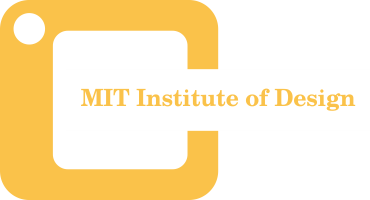 MIT Institute of Design started its operations in August 2006. The institute holds decade of excellence in design education, practice and research. MIT ID is committed to contribute to the design ecosystem and enhance the quality of academics in coming years. One of the important steps in this direction is MIT ID becoming a part of MIT Art, Design & Technology University, under the Government of Maharashtra.
With a decade of excellence and pursuance of one of our future aspirations, MIT Institute of Design with 1300+ creative minds on campus and 1000+ alumni professionals have added a further dimension to the program of design learning at our campus.
The learners and faculty mentors have registered their presence by winning more than 50 awards in various categories at national & international level, including prestigious 2 Red Dot awards won by our alumni's and more than 20 design registrations.
MIT Institute of Design is working closely with national & international design community. Being a member of CUMULUS, WDO (World Design Organization), MIT ID has collaborated with more than 10 reputed Universities across the world.
The concept of Design Habitat is in fact a logical and organic extension of our stated philosophy that ensures a total generalist ambience to enable design learning. It would evolve as an overarching concept around the functional framework of the Design Institute, which remains an integral component of the Habitat.
It is into this kind of stimulating and inspirational environment that mentors from various design related disciplines are invited to interact with the design learners and challenge their young minds to explore newer territories that should complement and reinforce their ongoing design learning. Here are some of the disciplines from which these mentors would be selected: biomechanics, alternative energy systems, linguistics (semiotics), performing arts, plastic arts, design anthropology, sociology, perception and cognitive psychologies and several more. The mentors would ensure that the level of interaction is such that it eventually leads to a learning that is comprehensive, sustained and focused in depth, and directly or indirectly design related
Know More
Apply Now
Avantika is India's first Design Centered University, promoted by MIT Group of Institutions, Pune, which has a proven legacy of 35 years in the field of higher education. The university is established by the Government of Madhya Pradesh, through an Act of state legislature, and is approved by UGC. The unique academic model is based on an integrated trans-disciplinary approach that harmoniously blends design and technology with liberal education.
Avantika is conceived to be a distinctive learning center and the project-based education framework is developed by a team of passionate and proven professionals like Prof. Sanjay Dhande, Former Director of IIT Kanpur, and Prof. Kirti Trivedi, an alumnus of RCA London and formerly with IIT Bombay. The spirit of creativity and innovation complemented by design thinking and intellectual boldness is the central theme at Avantika.
The academic programs at Avantika are led by DICE: Design, Innovation, Creativity, and Enterprise, with interdisciplinary curriculum and experiential learning at the core. The students are offered interesting courses like critical and creative thinking, design methodology, body and mind, history of technology and design, science of nature, and like, that connect areas of science, engineering, design and liberal arts.
The design centric learning at Avantika is focused on what really matters in life and aligned with the needs of students and society. The Avantika model emphasizes student choice and voice, multidisciplinary learning, and societal impact, coupled with a breadth of student experience outside the classroom, outside traditional disciplines and across the world. Avantika offers an experience not traditionally associated with undergraduate study, including research opportunities, industry internships, social and global immersion, incubation support, live projects, and exchange with international universities. The application of user-centered design throughout the curriculum, leads to the development of entrepreneurial capabilities and social responsibility.
The university has formal understanding with several global universities like Aalto University, Finland as a member of the Design Factory Global Network and Technion, Israel. The university maintains close tie-ups with organizations like NASSCOM, CII-Yuva, Reap Benefit, Toast Masters Club, and like. Avantika is also a member of World Design Organization (WDO), FAB Lab Network, National Research Development Corporation (NRDC) and National Academic Depository (NAD).
The university is based out of Ujjain, Madhya Pradesh, and the core objective is to nurture and cultivate young minds, who will come out empowered and enlightened.
Know More
Apply Now
'Vishwasheela Innovation' is a global learning ecosystem built by MIT ID and leading industry partners. It will enable the stakeholders to be thought leaders at the intersection of technology, design and business domain. With the emergence of a new social, political, cultural and economic relationships, the world is witnessing globalisation of a different kind Globalisation of values.
In this new global order, the model of Innovation needs to be reimagined. At Vishwasheela, we see 'Innovation' as a well-researched user-centric Design intervention based on cutting edge Technology bringing economic value to create a sustainable Business ecosystem.
Vishwasheela Innovation strongly believes that entrepreneurial thinking is one of the important virtues of an innovator. Entrepreneurial thinking and ecosystem is fully integrated in the program and available for the Vishwasheela innovators. Vishwasheela innovators with an entrepreneurial mindset will have an access to global resources that will enable them to successfully achieve shared goals as part of an organisation or kick-start their entrepreneurial journey during and after the program.
Technological innovation will be a driving force to bring the world together and technology plays an important role in upholding and propagating these values further. It takes belief in these global values and an ability to imagine new possibilities to make this world a better place for everyone. The future will be shaped by those who believe in these values and who can leverage the power of technology to drive innovation.
Know More
Apply Now